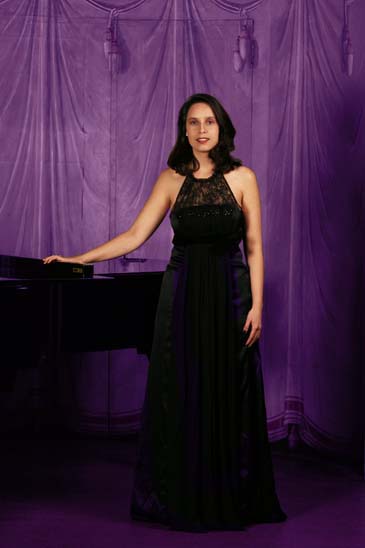 Priscille Laplace was born in Geneva. Her Swiss father and Columbian mother are both aficionados of music and literature.

Trained as a pianist, she has always had a passion for singing, which she sees as merging words and melodies, music and literature.

She started taking singing lessons in her early teens, first with Marga Liskutin at the Conservatoire Populaire in Geneva, then with Michèle Moser at the Conservatoire de Musique of Geneva.

At the same time, she studied Literature at the University of Geneva, where she earned a degree in German and Spanish language and literature in February 2003.

She pursued her training as an opera singer concurrently, in the class of Danielle Borst at the Haute Ecole de Musique of Geneva, culminating in a soloist's diploma earned in June 2007, and awarded the prize of the Society of Friends and Alumni of the Conservatory.

In the course of her studies, she had the privilege of following the Master Classes of William Christie, Teresa Berganza, Edda Moser and Nathalie Stutzmann, studying the art of Lieder with Irvin Gage and Ruben Lifschitz, as well as working with directors such as Omar Porras and Jean Liermier.

She began her career as a concert singer in March 2004 at the Victoria Hall in Geneva, in Händel's "Israel in Egypt", conducted by John Duxbury, alongside soloists such as Philippe Jaroussky. In December 2006, she received a Leenaards grant, which allowed her to devote herself entirely to music.

Singing with the Quatuor Sine Nomine during its Festival in Lausanne, and with Monica Huggett at the Teatro Olimpico in Vicenza, were the highlights of the year 2007.





While continuing to perfect her art under the guidance of Danielle Borst, Philippe Huttenlocher and Iroko Kawamichi, she performed her first roles at the Royal Opera House of Wallonia in Liège : Elisetta in Cimarosa's "Il Matrimonio Segreto" (January 2008), Adèle in "Die Fledermaus" by Johann Strauss (December 2008), and finally Najade in "Ariadne auf Naxos" by Richard Strauss (January 2009), an opera in which she was also the understudy for Zerbinetta.


Her career has given her the opportunity to work with conductors such as Michel Corboz, Michel Tabachnik, Giovanni Antonini, Dmitri Jurowski, Patrick Davin, Philippe Huttenlocher, John Duxbury, Luc Baghdassarian, Stephan MacLeod, Leonardo Garcia Alarcon, Véronique Carrot, Julian Villarraga, Anna Jelmorini, Jan Schultsz, Hervé Niquet as well as Monica Huggett.

In November 2008, she collaborated with the pianist Pascal Rogé, singing with him in concert and recording the "Liebeslieder" of Brahms alongside Gilles Cachemailles, Marie-Claude Chappuis and Frédéric Gindraux.

In June 2009, she took part in the creation of "Mermaids" by Luca Francesconi, a work commissioned by the Centre Pompidou and conducted by Michel Tabachnik at the Cité de la Musique in Paris.

Her 2009 season was crowned by her performance in December in Franz Lehar's "The Land of Smiles" at the Royal Opera House of Wallonia. She interpreted the role of Mi in this operetta conducted by Marko Letonja and staged by Stefano Mazzonis Di Pralafera.

In 2010, she will once again appear in Liège in "Rita" by Donizetti, an opera in which she will hold the title role under the baton of Claudio Scimone.

In the same year she will also partner with the pianist Fabrizio Chiovetta, with whom she will give a recital in Geneva.